UpDoc Marketing became the natural growth progression of the UpDoc Media brand. This allowed for us to engage UpDoc Marketing as the marketing agency and consulting division of UpDoc Inc; and, UpDoc Media, as the digital media productions division.
As we continued to grow, we started to notice windows of constants amongst the many variables within the landscape of marketing levers utilized by companies in healthcare, technology, and education.
Human psychology makes for an interesting mix of art and science when it comes to effective marketing.
Through years of painstaking data collection and testing with our own dollars, we're pleased to share we have crafted a true algorithm that brings constants to the many variables in marketing — constants that yield consistent results and favorable return on investment (ROI).
The UpDoc Marketing Algorithm
The Algorithm essentially exists to perform in three primary consumer behaviors: (1) Discovery, (2) Attraction, and finally, (3) Conversion.
Each of these three behaviors exists across a blended continuum for the customer, and, is cyclical in nature.
Discovery
The data behind consumer discovery and purchasing behaviors is nothing short of striking. Regardless of industry, over 90% of consumers will shop out your company's products and services to fulfill their solutions starting with an online search.
Even with industries such as healthcare, where companies value referrals, prospective patients will still shop out a referred provider to check if calling to schedule a visit is truly worth their time and money.
Additionally, our analysis of the customer discovery process goes beyond the lead source. Commonly, customer care, sales, and front reception teams will dutifully ask "How did you hear of us?" or "How did you find us?" While this is a necessary start in fully understanding where your customers are coming from, this typically serves only to identify the most salient lead source, not the fully fleshed out customer narrative pathway that most consumers typically experience — more on this later!
Attraction
Attraction is becoming more and more instinctual, immediate, and is increasingly driven by a user's first impressions in a sequence of multi-platform exploration. After the prospective customer performs their due diligence in an online search of your company, their next steps are screening for online reviews, your company website, your social media outlets, and any content that may convince them further that you are indeed the right solution for their needs — or, to unfortunately confirm for them that you aren't necessarily the best fit option.
How important is this leg of the customer conversion journey?
77% of consumers use online reviews as their first step in shopping out a brand.
84% of consumers trust online reviews as being reliable and genuine.
Consumers value narrative reviews more than starred ratings, alone.
91% of consumers will read reviews, regardless of their feelings about the reliability of online reviews.
41% of consumers admit that social media would affect their purchasing choice.
These statistics are just for the general consumer. The amount of weight given for healthcare consumers, education decision makers such as parents and guardians, and, for those looking to buy technology products become exponentially significant.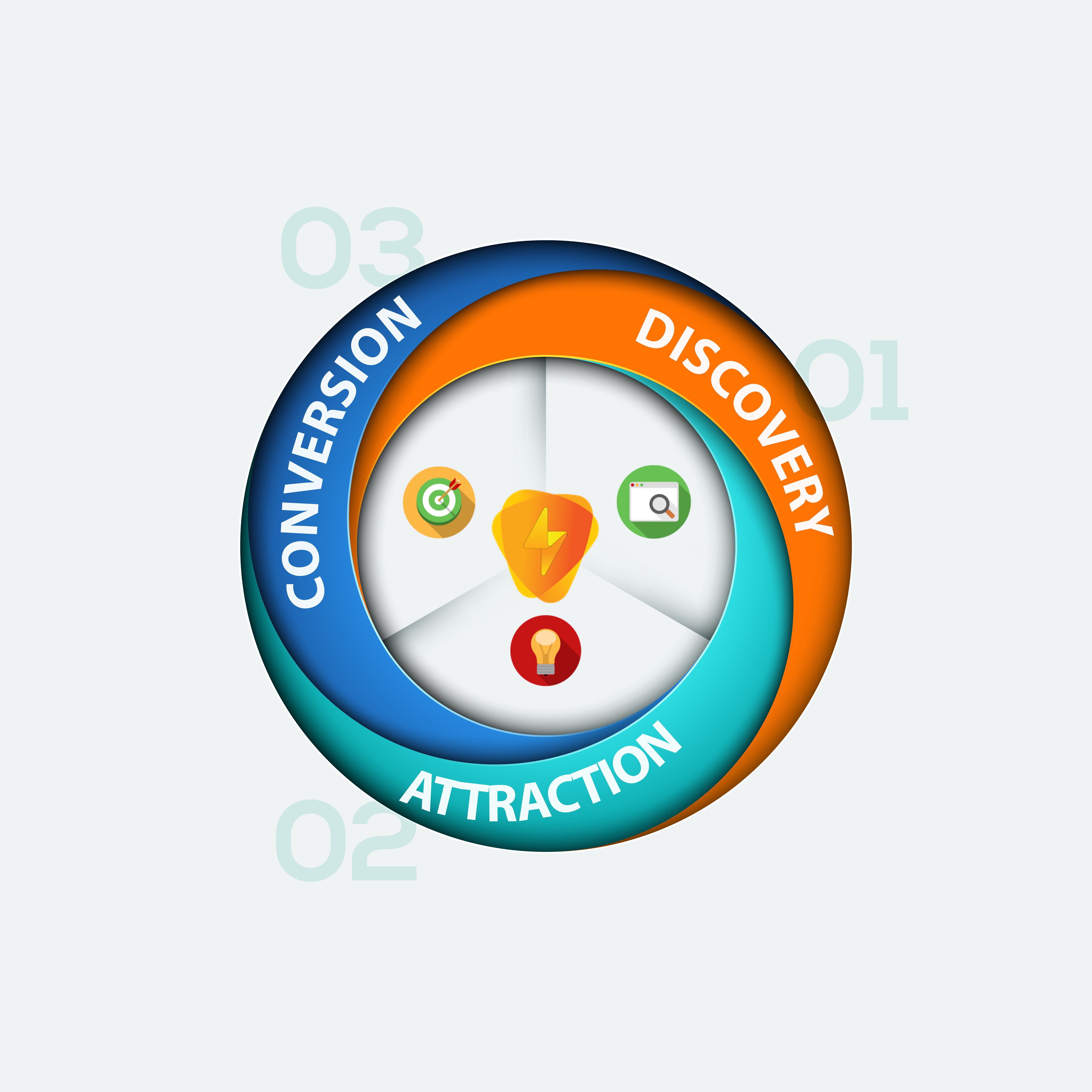 D

iscovery: Become Easily Found

A

ttraction: Make Your Brand Trustworthy & Desirable

C

onversion: Make It Easy For Shoppers To Buy From You

&nbsp

The "D.A.C." Cycle: Create Clear Avenues For Repurchasing, Transition to Lifetime Loyalty, and for Past & Current Customers to Make Referrals to New Prospects
Conversion
The conversion process speaks to the mechanical offramp that a consumer takes from casual shopping into a serious purchasing behavior. In the digital marketplace, we have analog mirrors to the shopping cart and the checkout aisle in tactile user behaviors such as: landing pages; search engine marketing; online advertising; lead magnets and contact acquisition; lead nurturing automation through email, text messaging, or chat messengers; micro purchases; direct call buttons; direct sales shopping carts; FAQs and chatbot automation; and of course, repurchasing and retargeting.
As usual, the magic isn't found in the specific pieces that comprise a company's chosen combination of conversion pathways. Success is found in creating a true ecosystem where prospects can find themselves in a reliable, repeatable customer life cycle for new customer acquisition, repurchasing, and customer referrals — ultimately, turning first time customers into lifetime customers.
Applying The Algorithm
While there are an infinite amount of marketing channels, tactics, and tools available — our algorithm organizes everything into four primary levers.
The 3 Rs: Online

R

eviews, Customer

R

elationships, and

R

eputation Management
The Website: Your Company's Digital Storefront — Becoming Quickly Found, Easily Liked, Readily Purchased
Customer Narrative Pathways (CNPs): Digital Advertising, Conversion Touch Points Analytics, Lead Source Mapping, and Customer Loyalty Strategies.
Branding: Content Marketing, Messaging Standards, Consumer Focused Value Propositions, Employee Engagement, and Corporate Culture.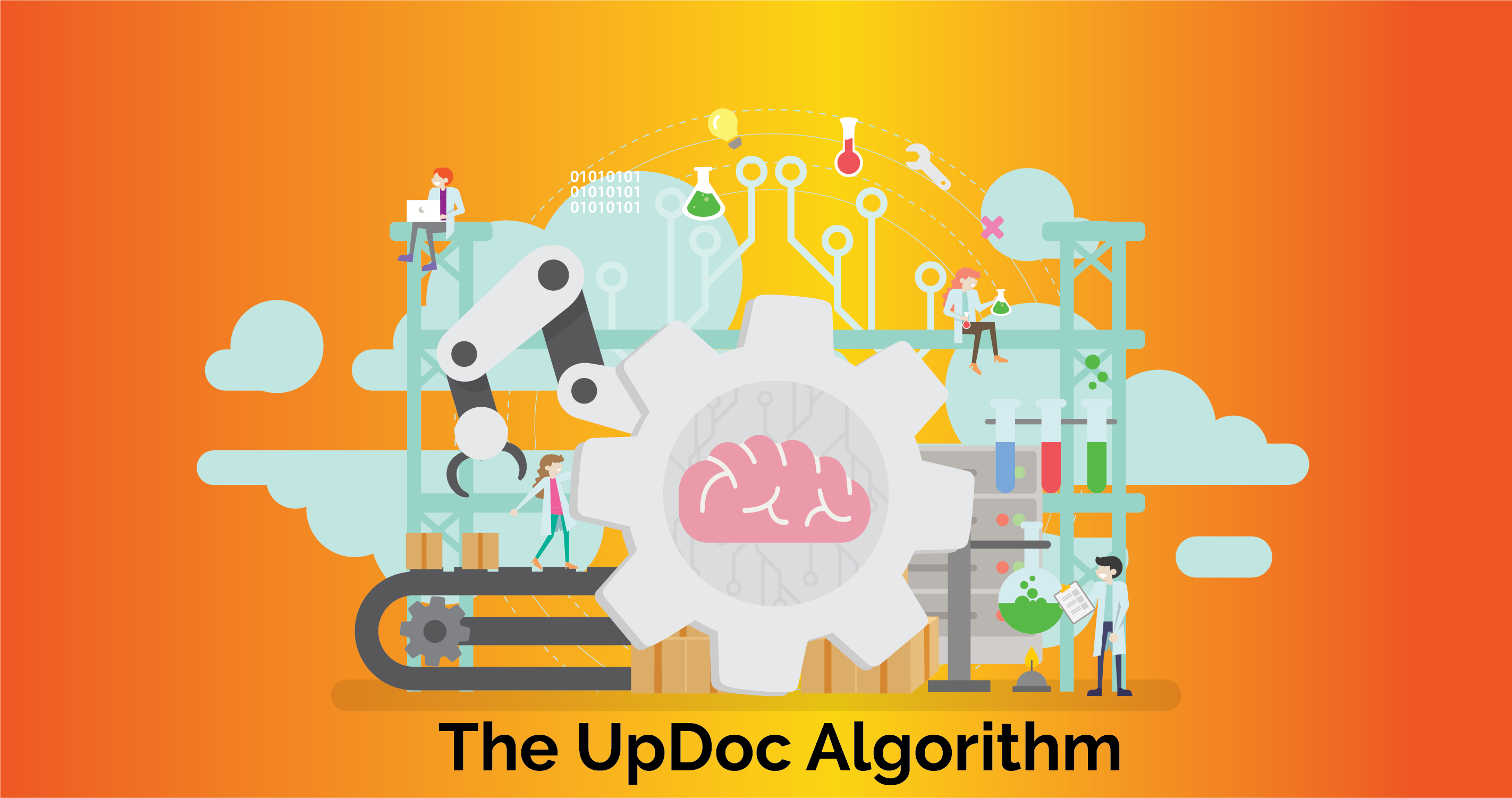 Algorithm Results
Reliability
Our data driven approach takes the guesswork out of marketing. Everything we do is evidence based, testable, trackable, and results oriented. This makes both our methods and our results — reliable.
Predictability
Due our clinical roots as a company, we are very much in tune with a scientific approach to marketing. The biggest advantage of the scientific method is reproducibility. One of the "secret ingredients" to the UpDoc Marketing Algorithm is the ability to predict ecosystem effects at scale; lead generation volume, percent conversion, cost of new customer acquisitions — all these pieces come together to give us mathematical models which can help gauge, guide, and project performance.
Performance
As with most companies, marketing should be seen as a fuel for the vehicle of the business rather than as a cost of operations. Therefore, as with any investment, one of the most important considerations is mileage — How many miles will you get from the gas you put in? How many dollars will you get back from the dollars you put in? At UpDoc Marketing, we pride ourselves in being customer centered and results oriented. While much of marketing is very much an art, holding subjective value and intangible factors; business is concrete and adheres to the reality of finances. It is in this reality that our performance and the performance of our clients speak for themselves.
The Importance of the Ecosystem Approach & the Customer Narrative Pathway
With our roots in clinical healthcare, let's approach marketing as if it were a care plan. Just as no rehab therapy clinician worth their salt would ever prescribe a singular clinical intervention such as ONLY exercise, or ONLY manual therapy, or ONLY patient education — neither do we advocate for marketing to be based on the latest tactic, method, or trend.
From the data we've gathered and our own dollars spent, we've seen that the right combination of marketing initiatives unified by a global strategy yields the best results. Without the entire ecosystem, things are inconsistent and hard to measure — which means you get "one off" results that are hard to scale, hard to replicate, and hard to predict.
Here's a healthcare consumer example of how the ecosystem works together and how it sets up the customer for successful engagement with a clinical brand.
A medical office refers a patient to "physical therapy."

The patient looks up physical therapy practice nearby as noted by their insurance carrier's listing.

The patient then performs and online search for "Physical Therapy Near Me."

The patient sees several top of fold search returns as well as several practices with favorable online ratings and reviews.

This prospective customer now opens up several browser tabs to look at both reviews of practices and their websites

Ultimately, the patient goes off of a "gut instinct" and selects one or two practices to explore deeper in their website and social channels as a final proof of each company's trustworthiness.

Finally, the patient will give the practice with the easiest purchasing off-ramp a phone call to inquire and schedule.

Of the many consumers who become new patients, some might drop-off before they complete their entire course of care. This is considered by many in practice management as a loss of customer retention.

And, by losing this customer, a clinical brand likely loses the opportunity for this customer to refer their respective services to friends, family, and colleagues — ultimately lowering the average customer lifetime value for the brand.
The example above covers one possible Customer Narrative Pathway from prospective consumer to purchasing patient; and, demonstrates the importance of the cyclical nature of "Discovery — Attraction — Conversion" ... that customers not only convert to the initial purchase, but also fully convert as lifetime customers and as brand ambassadors.
The heralded collection of customer retention studies by Bain & Company and Harvard Business School states that a 5% increase in customer retention can increase profits a striking amount — anywhere between 25% to 95% across industries. In the same vein, much of the business management literature has suggested that the cost of a new customer acquisition typically costs 6 - 7 times more than retaining a current customer.
This is but one of the many data-driven considerations embedded throughout our customer centered algorithm, giving your company the advantage of the big picture while keeping the details in check.
Other agencies might
help you get seen in a search.
We make you completely unmissable.